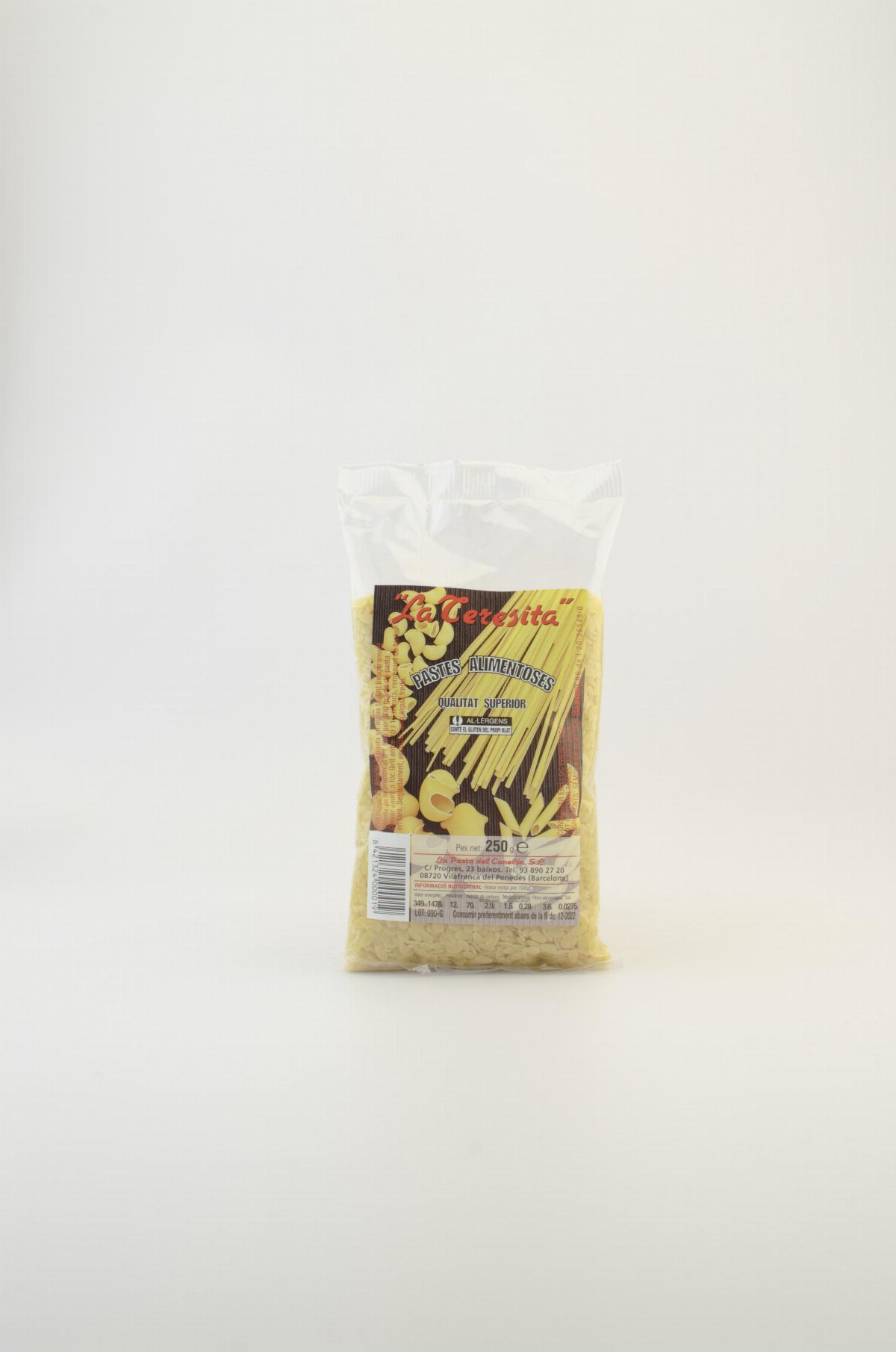 La Teresita Traditional paste num.2 noodles (fideos rossos) 250g
price by unit - 0.40Kg.
Ref. EX006111
Characteristics
Traditional durum wheat semolina pasta in the shape of number 2 noodles, manufactured in La Teresita de Vilafranca de Penedès. Content: 250g.

They can be prepared by dipping the pasta in boiling broth for 10-12 minutes, stirring occasionally and with a ratio of 1 liter per 100g of pasta. However, it is the pasta traditionally used to make the "rossos" (literally blond) noodles, a typical dish from Cambrils and the Costa Daurada. Then we provide the recipe below.

Ingredients: durum wheat semolina.

Contains gluten and may contain traces of celery and soy.

Nutritional information per 100g: Energy 1478J (349 kcal), Fat 1.5 g (of which saturates 0.28g), Proteins: 12g, Carbohydrates 70g (of which sugars 0g), Dietary fiber 3.6g, salt <0.1g

Cambrils-style Rossos Noodles Recipe

Ingredients for the broth for 6 people (can be substituted for a fish fumet):

800 g of fish (spiders, conger eels, skylights, monkfish, ribbons and mackerel)
150 g of crabs and galleys
1 medium onion
1 clove garlic
1 tablespoon of paprika dessert
4 liters of water
Salt

Ingredients for the noodles:

540 g of noodles no. 2
180 cl MESTRAL extra virgin olive oil
a chopped (4 almonds, 2 hazelnuts, 1 peeled garlic clove, 1 slice of bread, ½ romesco pepper (ñora) or a tablespoon of choricero pepper
1.5 l fish broth

preparation

- For the broth: add the water to the pot and when it starts to boil add the previously cleaned fish. Boil 1 hr 30 min, approximately. When it is, strain.

- Fry the onion and garlic until they start to brown, and add the crabs and the galleys until everything is well fried. Then add the paprika, wait a minute, making sure that it does not burn, and add water from the broth until it is covered. Let it boil 10 min and add it to the fish stock.

- You will prepare the chopped before making the noodles. Fry all the ingredients, put them inside a biker until everything is chopped and add a little oil that has remained after frying the bite.

- In a frying pan put the oil, the noodles and two cloves of garlic without peeling and fry everything very carefully (because it is not convenient for them to take on a color that is too dark and have a bitter taste), stirring so that the color of the noodle is gradually regulating everywhere. Next, add the boiling broth, and then put a tablespoon of chopped dessert until the broth reduces and the noodles are linked. You can serve them with homemade aioli.
---
Calculate management and delivery costs
If your country does not appear in the list, please send an e-mail to mestral@coopcambrils.com or call +34 977 369 511, and we will let you know the food customs requirements and the shipping costs.