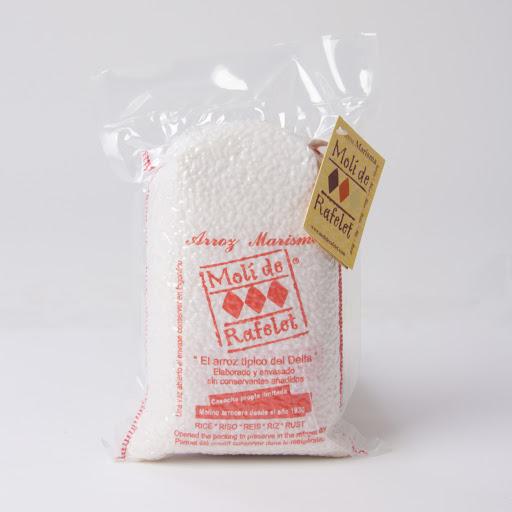 ×
Arròs Integral Ecológic Molí del Rafelet 1 kg
Price by unit - 1.20Kg.
Ref. EX006682
Characteristics
L'arròs Marisma Molí de Rafelet, es un arròs cultivat i elaborat en les terres del Parc Natural Delta de l'Ebre; de collita pròpia limitada i amb unes característiques culinàries excepcionals. Es recomana per arrossos caldosos i melosos, arròs amb llet ; també per a risottos. (Hi ha que treure l'arròs al punt)

L'arròs Marisma Molí de Rafelet té una elaboració completament artesanal i un "sabor a arròs", un gust excepcional; al estar elaborat en un moli artesà i no portar cap tractament químic de conservació. Per això, està envasat al buit per a no perdre les seves propietats culinàries i conservar les qualitats d'arròs acabat d'elaborar.

Una vegada obert l'envàs o si el saquet perd el buit, amb el saquet de roba, s'ha de conservar l'arròs al frigorífic. Això es molt important.

La cocció es de 10-12 minuts, es a dir, es cou de 3 a 4 minuts abans que la resta d'arrossos, mantenint totes les seves propietats. Hi ha que treure l'arròs al punt. Per a paelles necessita 2,5 gots de caldo per un d'arròs.

Informació Nutricional (Valor nutricional Mitjà per 100g): Valor Energètic: 1471 kJ/346 Kcal. Greixos 0,6g, dels quals saturats 0,1g, Hidrats de Carboni 77,9g, dels quals sucres 0,3g, Fibra alimentària 1,6g, Proteïnes 7,3g Sal 0g. Conserveu-ho en un lloc fresc i sec.
---
Calculate management and delivery costs
If your country does not appear in the list, please send an e-mail to mestral@coopcambrils.com or call +34 977 369 511, and we will let you know the food customs requirements and the shipping costs.