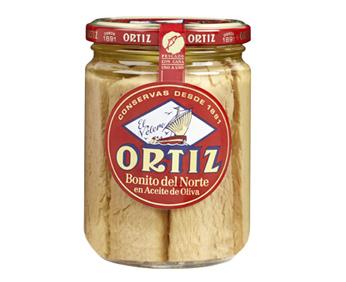 ×
White tuna Ortiz El Velero in olive oil glass jar 220g
Price by unit - 0.45Kg.
Ref. EX003234
Characteristics
Our White tuna are individually line caught with live bait or fly during the coastal fishing season. This age-old technique of selective fishing (which also avoids unwanted fish being discarded) respects the environment and protects marine reserves. We prepare our White tuna in an entirely artisanal way. It offers an exquisite flavour and delicate texture for the palate.

The exquisite flavour of the finest White tuna is enhanced by olive oil, which gives it a silky texture. As in the case of good wine, cheese or ham, it is possible to create a "cellar" of Bonito del Norte preserves whose quality and flavour will improve with age.
Nutritional information
Ingredients: White Tuna, olive oil and salt

Nutritional information per 100g: Energy 703KJ (168 kcal), Fats 6.7g of which saturated 1.2g, carbohydrates 0g of which sugars 0g, Proteins 27g, salt 0.5g